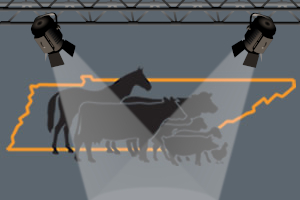 Get to know our Animal Science faculty, staff and graduate students in our Spotlight feature.
Meet Casey Read, graduate student and research assistant
What is the most exciting part of your job?
Developing my own technique to get four individual measurements from a single oocyte
I have really gotten into coding and enjoy that I can incorporate that into my program
The freedom my professor has given me to develop a project of my own
When you were a kid, what did you want to be when you grew up?
A veterinarian and, briefly, a chef. During undergrad, I became more interested in grad school so I went that route instead. Now I'm a grad student who bakes in her spare time.
Do you have any hidden talents or hobbies?
I've got some unconventional hobbies: I make my own salami and can also make a mean sourdough loaf. I also enjoy knitting and have gotten into lace making in hopes of making my own wedding dress
What's your favorite thing to do on the weekends?
My husband and I are avid rock climbers and can frequently be found outdoors on the weekends with our dog, Hobbes.
What's a skill you'd like to improve on?
Largely baking. I can do basic things really well but would love to be able to perfect more intricate recipes.
Are you an introvert or an extrovert?
A bit of both. I enjoy socializing with people, but also need time to myself to recharge.
What's your least favorite chore around the house?
Dusting.
How would your friends describe you?
I conducted a poll and received the following responses:
"Kind hearted and spirited" – Mom and Dad
"Smart bad*** who can conquer anything" – Kathleen
"Detail-oriented, highly focused, deeply motivated person of science who isn't afraid to get her hands dirty. Even if that means getting covered in cow poop…" – V
"Smart, dependable, fun, quirky, and curious are the first things that pop into my mind" – Husband
What piece of advice would you give your 18 year old self?
I'm pretty happy with how my life has turned out, so I guess just "Keep on following those open doors and doing what makes you happy."