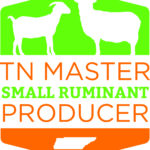 The Advanced Master Small Ruminant Producer program is designed to continue the educational opportunities started by the original Master Meat Goat Producer program. The program gives sheep and goat producers a combination of classroom teaching and hands-on learning experiences. The learning sessions provide opportunities for producers to increase knowledge and skills needed to apply management practices necessary for profitability and sustainability of the sheep and goat industry. Educational sessions are delivered by your local UT-TSU Extension county agent.
Any sheep and goat producer is welcome to attend, even if you did not have the opportunity to attend the original Master Meat Goat Producer training sessions. The Tennessee Agricultural Enhancement Program (TAEP) provides cost-share assistance for long-term investments in Tennessee's farming operations. A current University of Tennessee Master Producer Certificate is one of the qualifications needed for producers to be eligible for the maximum 50 percent cost-share assistance.
New Spring 2021 Master Small Ruminant Producer Program
The Small Ruminant Work Group has been working hard to develop online options for those that need to complete their Master Small Ruminant Certification. In light of COVID-19 and restrictions placed on meeting sizes we have decided to offer an online Zoom series to our small ruminant producers.
Please join us in the new year with our MSRP program via Zoom! The program starts January 26th and will continue every Tuesday night until March 30th from 6:30-8:00 pm EST for 10 total classes.
A sampling of topics include, reproduction, nutrition, forages, health, facilities, and parasite management.
Program cost is $110 and includes a sheep or goat manual, hat, farm sign, and other promotional materials.
Please follow this link and register online.
Payments can also be make online via the UTK Online Shopping Mall
Contact your local county Extension Agent for more information.
Coronavirus Food Assistance Program
The following link leads to an Excel calculator designed by Drs. Charley Martinez, Aaron Smith, and Andrew Griffith with UT Extension to help producers estimate Coronavirus Food Assistance Program (CFAP) payments. This tool is intended to be a guide for producers to use in order to estimate a payment amount, it is not an absolute estimate. This spreadsheet is for informational and educational purposed only. Final payments are at the discretion of USDA. Additional information can be found on AREC Decision-Aid Tools webpage.
It is very important to note that details continue to evolve rapidly on the program and we are still awaiting clarification on eligible inventory categories and the potential for additional commodities. We will continue to provide updates as additional information is revealed. Additionally, we will be releasing short videos with examples on how to input information, to obtain CFAP payment estimates, for a few representative operations.
The USDA CFAP website has additional details, fact sheets, forms and web tools.