The Master Small Ruminant Producer program is designed to service the educational needs of sheep and goat producers in Tennessee. The program gives sheep and goat producers a combination of classroom teaching and hands-on learning experiences. The learning sessions provide opportunities for producers to increase knowledge and skills needed to apply management practices necessary for profitability and sustainability of the sheep and goat industry. Educational sessions are delivered by your local UT-TSU Extension county agent.
Any sheep or goat producer is welcome to attend! Beginning and advanced producers will find the program useful to help with their operations. The Tennessee Agricultural Enhancement Program (TAEP) provides cost-share assistance for long-term investments in Tennessee's farming operations. A current University of Tennessee Master Producer Certificate is one of the qualifications needed for producers to be eligible for the maximum 50 percent cost-share assistance.
New Class Announced
Middle Tennessee
Date
August 16, 2021
9 am to 5 pm CDT
_____
August 17, 2021
9am to 5pm CDT
(Includes Middle TN Grazing School
Location
Middle Tennessee AgResearch & Education Center

1000 Main Entrance Drive
Columbia, Tennessee 38401
Registration Fees
$100 for one producer, includes one certification and one notebook.
$125 for one producer plus one spouse/guest/child, includes one certification and one notebook. Second person will not received any certifications or notebook buy may participate in meals and activities.
$200 for couple, includes two certificates and two notebooks. This would be for those needing two certificates for TAEP.
Make checks payable to UT Extension Marshall County and mail completed registration form with check to:
UT Extension Marshall County
230 College Street, Suite 160
Lewisburg, Tennessee 37091
Registration form and fees are due Monday, August 9, 2021
West Tennessee
Location
West Tennessee Research and Education Center

605 Airways Blvd.
Jackson, TN 38301

$160 per certification
Benefits of Certification: Learn from experts & ask questions directly. Information on goat & sheep production. Provides eligibility for TN Ag Enhancement Program at the 50% cost share level.
Class participation includes: Sheep or Goat Handbook MSRP Farm Sign MSRP Hat Lunch & snacks
Topics include: Business Principles, Facilities, Health, Nutrition, Parasite Management, Reproduction & MORE.

Visit our website: perry.tennessee.edu to register and pay.
For more information contact Amanda Mathenia at 931.589.2331 or amatheni@utk.edu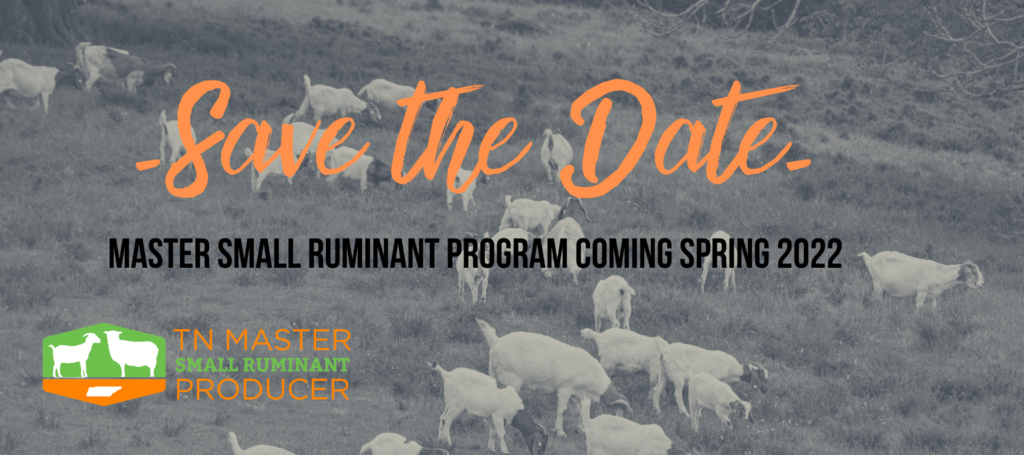 New Spring 2022 Master Small Ruminant Producer Program
The Small Ruminant Work Group has been working hard to develop online options for those that need to complete their Master Small Ruminant Certification. In light of COVID-19 and restrictions placed on meeting sizes we held our first online MSRP classes in 2020. We are going to continue offering an online program once per year due to increased demand, popularity, and flexibility.
Please join us in 2022 with our MSRP program via Zoom! The program starts in January and will continue through March for 10 total classes.
A sampling of topics include, reproduction, nutrition, forages, health, facilities, and parasite management.
Program cost is $110 and includes a sheep or goat manual, hat, farm sign, and other promotional materials.
Contact your local county Extension Agent for more information.