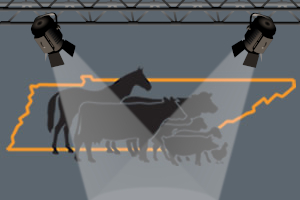 Get to know our Animal Science faculty, staff and graduate students in our Spotlight feature.
This week, meet Jennie Ivey, specializing in Equine nutrition and exercise physiology
What is the most exciting part of your job?
The ability to teach equine owners, students, youth and other individuals. The "light bulb" moment never gets old for me and I find it rewarding to empower others through education.
Who inspires you?
My main inspirations are my parents, kids, and husband. I also look up to many of my mentors and colleagues, too!
What is something you find challenging about your work?
Balancing all of my responsibilities, across work and family life, is a constant challenge for me.
When you were a kid, what did you want to be when you grew up?
Like many of our students, initially I wanted to be a veterinarian.
Where do you see yourself in 10 years?
Supporting my girls, Zoie and Sophie, in their various sports, extracurricular activities, or other interests. I can't wait for that!
Do you have any hidden talents or hobbies?
I was a varsity swimmer, surfer and powerlifter. I still swim and lift regularly!
What's your favorite thing to do on the weekends?
Go to the beach and soak up the sun! If I can't get there, I love to be outdoors (ideally near water) with my family and friends, watching the Mountaineers play football, or relaxing with our dogs, Kona and Cerveza.
Which historical figure would you most like to meet?
Not necessarily a historical figure, but historical to me and my family. I would like to go back and meet my paternal grandfather as he achieved his PhD in organic chemistry and worked as a chemist on less-addictive morphine derivates during World War II. I think it would be fascinating to see how laboratory methodologies were adapted and research was performed without the technology we have today. His dissertation hangs in my basement. It is typed on a typewriter and his figures, tables, and structures are all hand drawn!
What's a skill you'd like to improve on?
I haven't had a lot of time to ride horses in the last few years, and can't wait to get back to riding regularly!
Are you an introvert or an extrovert?
Personality and leadership tests indicate I'm slightly extroverted (ESTJ).
What's your least favorite chore around the house?
Weed whacking (or weed eating, as they say down here)! Ugh, its the worst.
How would your friends describe you?
Driven, loyal, family-oriented, slightly sarcastic 🙂
What piece of advice would you give your 18-year old self?
​Take in every opportunity, including those with your family and friends. There is always time for something if you chose to make it a priority.