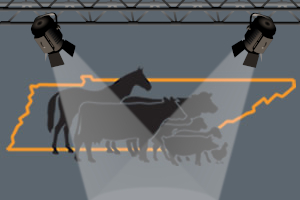 Get to know our Animal Science faculty, staff and graduate students in our Spotlight feature.
This week, meet Jessica Klabnik, Graduate Research Assistant
What is the most exciting part of your job?
The diversity of what I do – there is always more to learn!
What is something you find challenging about your work?
That there is always something more than needs done either for research or to benefit the students
When you were a kid, what did you want to be when you grew up?
A veterinarian
Where do you see yourself in 10 years?
A faculty job with some clinics/teaching and research; honestly not too different from what I'm doing now!
What's your favorite thing to do on the weekends?
Brazilian Jiu Jitsu or run with the dogs
Which historical figure would you most like to meet?
Marie Curie
Who do you look up to within Herbert College of Agriculture?
So many! We have an amazing group of people: Dr. Edwards, Dr. Schrick, Becca, Dr. Moorey, Dr. Schneider, Denice and more.
What's a skill you'd like to improve on?
I would like to learn Slovak and French.
Are you an introvert or an extrovert?
A little of both
What's your least favorite chore around the house?
Cooking
What piece of advice would you give your 18 year old self?
Prioritize who you are and who you want to be; Don't wait to strive for the life you want.