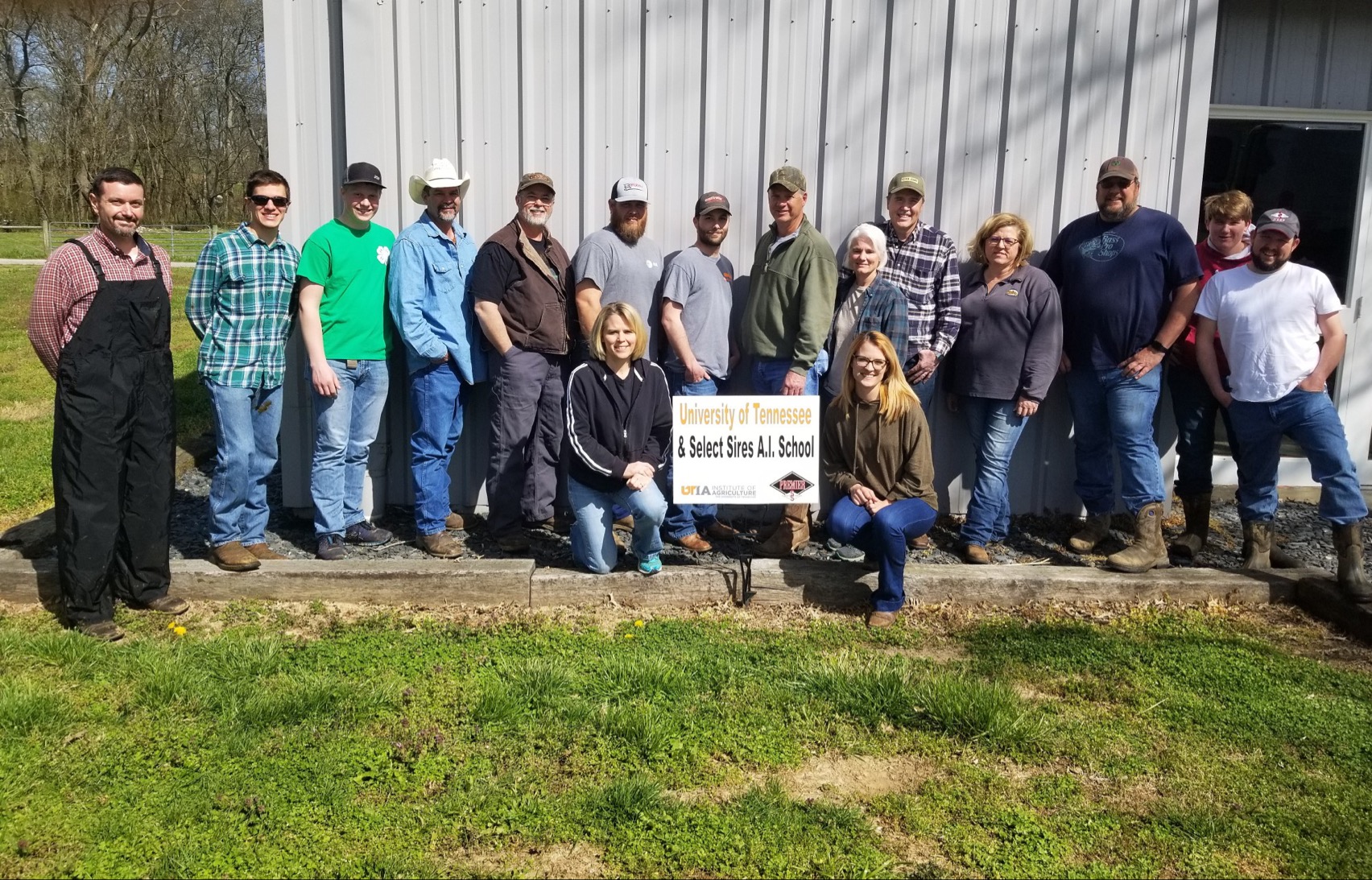 Animal Science has four key areas of research, Animal Health and Well-Being, Genetics and Genomics, Nutrition Physiology and Reproductive Physiology. Today we are highlighting a lab in the Reproductive Physiology area. Justin Rhinehart, Professor with a focus in Beef Cattle Reproductive Management, will share his lab with us.
Questions
What kind of work does your research group conduct?
Our team works with the other Animal Science Extension specialists to coordinate and deliver educational programming for beef cattle production through UT Extension County Agents. We also conduct translational research and field demonstrations in applied reproductive technologies and replacement heifer development. Our primary research objective is to find and apply solutions to beef cattle producers' issues relating to reproductive performance in commercial and seedstock cow-calf herds.
What led you to your research?
My interest in beef cattle reproductive management started when I pursued a B.S. in Agriculture and Extension Education here at UT. I focused most of my elective hours on Animal Science and became interested in the physiological underpinnings of the livestock management decisions I was interested in teaching. After discovering that teaching high school agriculture was not the right fit for my career goals, I made the unconventional transition from an education undergraduate to pursue an M.S. degree in reproductive physiology. I completed my thesis research with an Extension Specialist at the University of Kentucky. During that time, I was able to experience the full breadth of operating as a statewide Extension Specialist – serving Agents and beef cattle producers in a county-based Extension system. That experience was fulfilling, and I knew I wanted to become a faculty-based Extension specialist. I needed more training in the molecular fundamentals of reproductive biology to excel in that role. That would enable me to communicate effectively with research faculty, interpret their research, discover relevant solutions in their findings, and provide them with production issues for which their labs could find answers. So, I completed my dissertation research at West Virginia University (WVU), researching questions that required tools and methods from endocrinology, genomics, and proteomics.
Where do you see your field in 10 years?
I am always optimistic that the field of applied reproductive technologies in beef cattle is on the verge of game-changing developments. However, It is challenging to forecast the magnitude of those developments because so many market and non-market dynamics influence beef production. The most notable change will likely be the more widespread use of individual animal monitoring technologies that record animal behavior in real-time to predict reproductive events. These precision livestock farming technologies will include ear tags, sensor-equipped feeders and waterers, and stationary or mobile cameras. These gadgets are currently used to estimate the date of pasture mating in natural service herds, detect estrus/standing heat for better timing of artificial insemination, determine pregnancy status, estimate calving date, and detect when a cow or heifer begins calving. Beef cattle producers will be more willing to adopt these technologies as costs decline, they become easier to use, and their prediction accuracies improve. Another significant change will likely be enhanced chute-side blood pregnancy tests that are easier to use and yield results more quickly than tests that recently entered the market.
Who are your lab members
As an Extension Specialist, I do not have a lab group in the traditional sense. I partner with research faculty in our department and throughout the UT system to answer questions and solve problems that impact beef cattle production. Courtnie Bridges works with us as a Beef Programs Coordinator and is finishing her M.S. in Reproductive Physiology under my direction. She performs most of the artificial insemination and pregnancy determination for our field trials and on-farm demonstrations across the state. Courtnie also works with UT Extension ANR Agents and Specialists to coordinate TN Master Beef Producer training and assists Dr. Strickland with the Beef Quality Assurance program.
Contact
Justin Rhinehart
Assistant Dean And Professor, Extension Administration