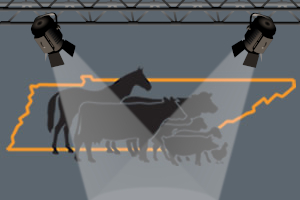 Get to know our Animal Science faculty, staff and graduate students in our new Spotlight feature.
This week, meet Justin Rhinehart, Associate Professor specializing in beef cattle production.
What is the most exciting part of your job?
Helping cattle farmers find and implement unique solutions to difficult issues, then seeing their economic success and quality of life improve as a result.
Who inspires you?
Rachael Rhinehart
What is something you find challenging about your work?
It often requires long, unconventional hours and moving quickly between unassociated tasks.
When you were a kid, what did you want to be when you grew up?
An auctioneer.
Where do you see yourself in 10 years?
Toward the end of a career as an Extension Beef Cattle Specialist with the University of Tennessee Animal Science Department.
Do you have any hidden talents or hobbies?
I'm a TN-licensed auctioneer and enjoy calling bids. I also like to whittle; not carve, just whittle.
What's your favorite thing to do on the weekends?
Whatever my wife and daughters are doing.
Which historical figure would you most like to meet?
Adam Smith, FRSA (in recent history – Milton Friedman).
What's a skill you'd like to improve on?
Time management.
Are you an introvert or an extrovert?
Primarily extroverted.
What's your least favorite chore around the house?
Folding laundry.
How would your friends describe you?
"He's acted like an old man since middle school."
What piece of advice would you give your 18 year old self?
Spend more time with your grandparents, record the stories they tell you, and pay close attention to the decisions Papaw makes when you're farming with him.