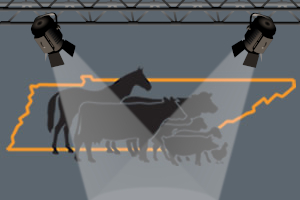 Get to know our Animal Science faculty, staff and graduate students in our new Spotlight feature.
This week, meet Neal Schrick, Animal Science, Department Head.
What is the most exciting part of your job?
All the different challenges that come through the door, phone or email each and every day including weekends!
Who inspires you?
Family! From the Schricks in Oklahoma to the Schricks in Tennessee! They keep me positive everyday
What is something you find challenging about your work?
The quantity of emails that come in each day and needing to provide a rapid response
When you were a kid, what did you want to be when you grew up?
A farmer
Where do you see yourself in 10 years?
Retired and traveling to the lake to fish, play golf, and gamble in Vegas!
Do you have any hidden talents or hobbies?
I like to bale hay, fish and play golf! Plus collect arrowheads
What's your favorite thing to do on the weekends?
Farm
Which historical figure would you most like to meet?
Theodore Roosevelt and the Rough Riders
Who do you look up to within Herbert College of Agriculture?
Bob Auge and Arnold Saxton who are retired
What's a skill you'd like to improve on?
Patience or lack of!
Are you an introvert or an extrovert?
Slightly Extrovert according to the various leadership trainings I've completed
What's your least favorite chore around the house?
Dishes
How would your friends describe you?
Nonstop!
What piece of advice would you give your 18 year old self?
Stop and smell the roses because 58 will be here before you know it!