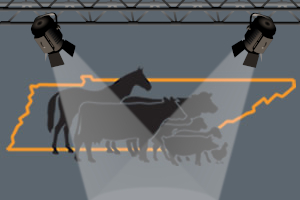 Get to know our Animal Science faculty, staff and graduate students in our Spotlight feature.
This week meet Taylor Seay, Graduate Research Assistant
What is the most exciting part of your job?
I love seeing a project from start to finish. Beginning with an idea, helping make the project happen, and then seeing results is rewarding, especially when the results are exciting!
Who inspires you?
My family, especially my mom, have always inspired me to work hard and showed that being successful in your personal life with family and in your career is possible.
When you were a kid, what did you want to be when you grew up?
I have been passionate about all animals since I was a kid and always knew I wanted to work with them in some way.
Where do you see yourself in 10 years?
I hope to continue contributing to the field of animal science through research.
Do you have any hidden talents or hobbies?
I have trained and shown dogs since middle school. I have been involved in multiple venues such as conformation, agility, obedience, and therapy dog activities.
What's your favorite thing to do on the weekends?
In my free time and when I am not showing or training my dogs, I love playing video games and watching movies or sports with my husband.
Are you an introvert or an extrovert?
Introvert!
What piece of advice would you give your 18 year old self?
Keep working hard and you will achieve any goals you set for yourself, and trust everything will work out as it should.