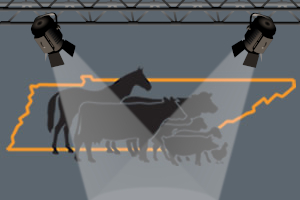 Get to know our Animal Science faculty, staff and graduate students in our Spotlight feature.
This week, meet Troy Rowan, Assistant Professor-Beef Cattle Genomics
What is the most exciting part of your job?
I love being able to work together with a bunch of enthusiastic, knowledgeable, and creative people to find ways to improve how we breed and manage cattle.
Who inspires you?
My dad and our late family friend Dave Hebbert are two of the cattlemen that I look up to the most. They really fostered my passion for the beef industry from a young age and keep motivating me every day.
What is something you find challenging about your work?
Email is a beast. Never imagined I'd send and receive so many emails. Every. Single. Day.
When you were a kid, what did you want to be when you grew up?
A pharmacist like my mom
Where do you see yourself in 10 years?
Hopefully still at UT! But with tenure and a big, productive lab group.
Who do you look up to within Herbert College of Agriculture?
Jon Beever and Justin Rhinehart have quickly become two of the people that I look up to the most here at UT. They've thrown all sorts of opportunities and ideas my way and helped me out with all of the challenges come along with starting a faculty position.
Do you have any hidden talents or hobbies?
I am a pretty active homebrewer. We call our little brewery "3-Legged Dog Brewing Co." after our dog Nadia.
What's your favorite thing to do on the weekends?
I enjoy hitting the hiking trails and foraging for wild mushrooms with my partner Harly and our dogs Nadia and Cupcake.
Which historical figure would you most like to meet?
St. Francis of Assisi
What's a skill you'd like to improve on?
My writing
Are you an introvert or an extrovert?
Huge extrovert (seriously always down for a chat…stop by my office anytime)
What's your least favorite chore around the house?
Doing the dishes. I love to cook but dread knowing that there is a pile of dishes to do afterward.
How would your friends describe you?
A "people person" with a lust for life!
What piece of advice would you give your 18-year-old self?
Be flexible! Your grand plan is almost certainly going to change. If you're adaptable, you tend to find yourself in the right place at the right time when opportunities pop up.