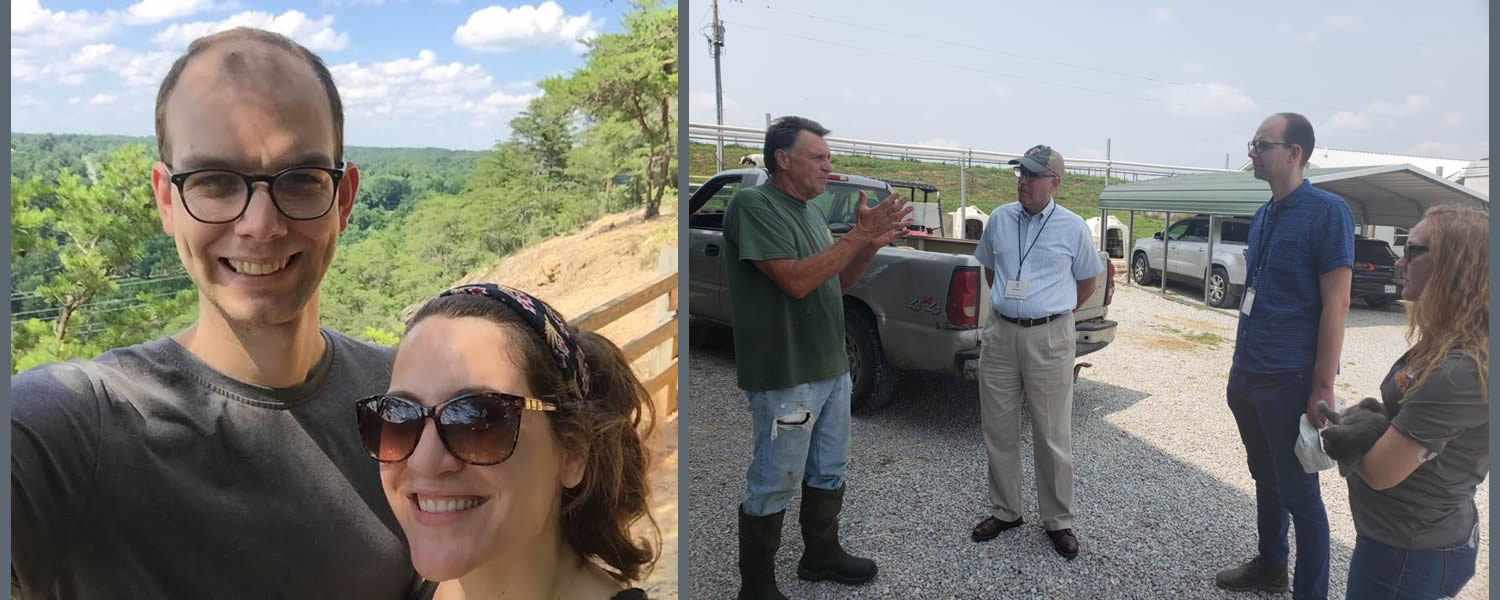 Animal Science is fortunate to have dedicated and talented professional staff that assists our faculty in their research and programs. We would like to take the opportunity to let you get to know them. Today we will meet Shep Stearns.
Questions
Who are the team of faculty you work with and what is the primary research areas performed by you in the lab?
I work with Dr. Liz Eckelkamp on the Southeast Dairy Business Innovation Initiatives Program (SDBII). SDBII draws together collaborating faculty and Extension professionals from institutions including NC State, North Carolina A&T, The University of Kentucky, Kentucky Dairy Development Council, the Center for Profitable Agriculture, and many more. Our team works together to provide technical support to help dairy farmers in the Southeast stay viable by finding innovative ways to add value to the regional milk supply. We also provide a grant program which is making a substantial direct investment in value-added dairy infrastructure with producers/processors throughout the region.
What lead you to your research interest and what is your favorite procedure to do in the lab?
My family has been involved in value-added dairy since 1871 when one of my ancestors started delivering milk to his neighbors. I grew up on a producer-processor dairy farm in Connecticut. I still stay involved there with some grant writing and special projects. Growing up in that context has always left me with a desire to help farmers command a better price for the products that result from their hard work. Being a part of SDBII allows me to help dairy farmers reinvest and reinvent their operations, and I find that very exciting! I also learn something new every day in my job because SDBII touches on so many content areas including animal science (of course!), plant science, food science, agricultural/resource economics, marketing, and the list goes on and on…
What is the best part of your job?
I love going out to see farmers and talking to them about what their hopes and dreams are for the future of their business. I also love trying out their products. I am developing a pretty good sense of the best cheese that Tennessee, North Carolina, and Kentucky have to offer. I am looking forward to getting more familiar with the cheese in the other 9 southeastern states we work with as well. Join the SDBII crew in Eddie's for a cheeseboard sometime soon! I will be sure to send out a department-wide email the next time I put a selection together!
What is your favorite activity outside of lab/work that makes Friday a day to look forward to each week?
It's such a great feeling to get home after a long week and go on a walk or work in the yard with my wife, Leah. We bought a little house in North Knoxville last year, and the garden is really starting to come together. We love going on hikes in the Smoky Mountains and visiting Asheville. Also, I really love pizza. If it's Friday, I will probably be eating pizza.