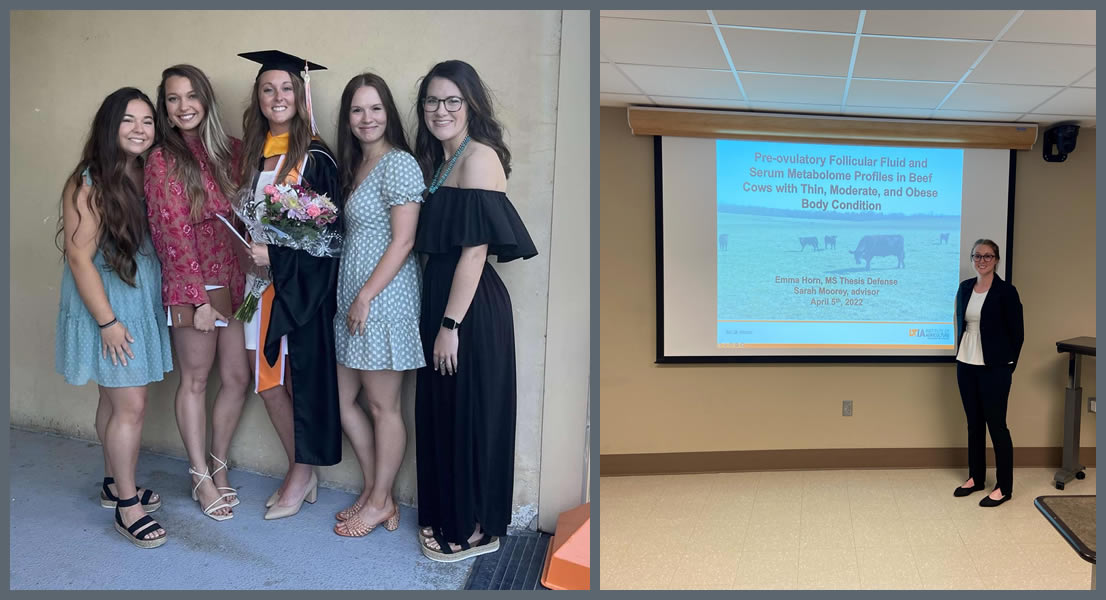 Animal Science is fortunate to have dedicated and talented professional staff that assists our faculty in their research and programs. We would like to take the opportunity to let you get to know them. Today we will meet Emma Horn.
Questions
Who are the team of faculty you work with and what is the primary research areas performed by you in the lab?
I work with Dr. Sarah Moorey and Dr. Dan Mathew primarily, and often get involved with the Edwards lab. My own research involves the bovine pre-ovulatory follicle. Our labs mainly perform work related to the bovine oocyte and bovine reproductive tissues and their functions.
What lead you to your research interest and what is your favorite procedure to do in the lab?
My interest in science and opportunity to be an undergraduate researcher in Dr. Kyle McLean's lab led me to research initially. After that, I was fortunate enough to begin an undergraduate research project with Dr. Moorey, which eventually led to my thesis work on the bovine pre-ovulatiory follicle. And the rest is history! My favorite procedure is searching for and grading bovine oocytes, however my favorite part of being in the lab is helping to teach students new skills and confidence!
What is the best part of your job?
The best part of my job is the people I get to work with! I got very lucky and I am surrounded by lots of friends, mentors, and collaborators. I also love being on the farm for hands-on sample collection days.
What is your favorite activity outside of lab/work that makes Friday a day to look forward to each week?
My favorite activity outside of work is spending time at my barn with my horse and dogs!