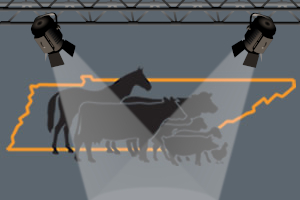 Get to know our Animal Science faculty, staff and graduate students in our Spotlight feature.
This week meet Abigayle Pollock, a graduate teaching assistant and coach for the Livestock Judging Team.
What is the most exciting part of your job?
It's hard to choose just one part! First, getting to travel across the country to evaluate livestock at some of the best operations in the country. Secondly, seeing students learn about the livestock industry and grow as a person throughout their time on the team.
Who inspires you?
My judging teams. They are some of the hardest working and most talented students within our department. They make the tough days worthwhile.
What is something you find challenging about your work?
Wearing a lot of "hats". Coaching, teaching classes, research, and other departmental responsibilities quickly add up. I love that each day is completely different from the next, but sometimes it can be hard to keep up!
When you were a kid, what did you want to be when you grew up?
It depended on the week. Usually a veterinarian or a biologist.
Where do you see yourself in 10 years?
Finished with my PhD and working in the cattle industry as a reproductive physiologist.
Do you have any hidden talents or hobbies?
I used to competitively figure skate when I was little and still enjoy skating for fun when I have time!
What's your favorite thing to do on the weekends?
Usually I'm practicing with the team, but when I'm not I enjoy spending time in the barn or going to cattle shows with my family.
Who do you look up to within Herbert College of Agriculture?
I have had numerous mentors throughout my time in the college of agriculture, but Dr. Schrick and Dr. Edwards are pretty special to me! They immediately took me under their wing as a Freshman, and are now my co-mentors for my Master's degree.
What's a skill you'd like to improve on?
Taking time for myself. I get so focused on work responsibilities that I often forget to find time for a break!
Are you an introvert or an extrovert?
Extrovert mostly, but I still frequently need time to myself.
What's your least favorite chore around the house?
Folding clothes. Hands down.
What piece of advice would you give your 18 year old self?
Don't worry too much! Everything happens for a reason. Take your time, and enjoy life!