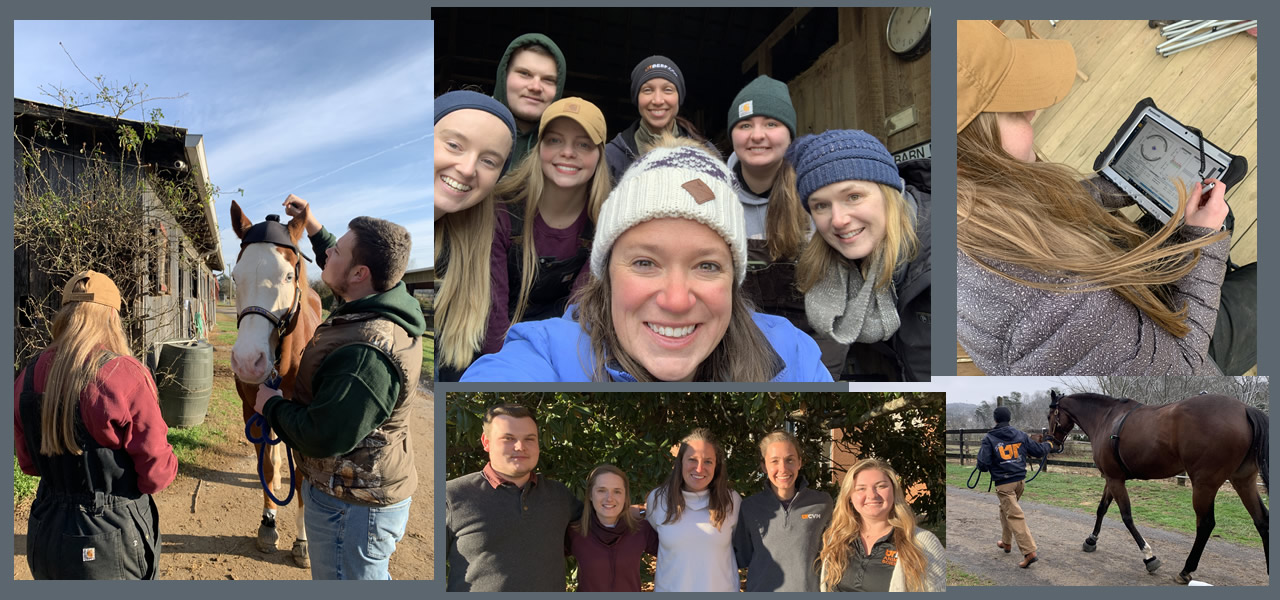 Animal Science has four key areas of research, Animal Health and Well-Being, Genetics and Genomics, Nutrition Physiology and Reproductive Physiology. Today we are highlighting a lab in the Nutrition area. Jennie Ivey, Associate Professor, specializing in Equine nutrition and exercise physiology, will share her work with us.
Questions
What kind of work does your research group conduct?
Our lab is focused on evaluating solutions for issues identified and informed by my Extension program. As the Equine Extension Specialist for Tennessee, I work closely with County Agents, industry members, equine owners, veterinarians, and many others. These relationships aid me in determining areas where applied research can improve aspects of nutrition, performance, and welfare. For example, after starting at the University of Tennessee, I saw a large need for information on refeeding starved horses to a healthy body weight and understanding how the general public views issues surrounding equine welfare, management, and economic impact. Further, I noticed that our knowledge of the Tennessee equine industry was lacking, and the need for innovative approaches to teaching and non-traditional education to engage our clientele. This needs assessment informed my current research program with several ongoing projects in the following areas:
developing strategies for increasing body weight and condition in starved horses, in partnership with Purina Animal Nutrition and Standlee Forage
establishing a clinical nutrition assessment for equids
understanding the economic impact and demographics of the Tennessee equine industry, in partnership with the Tennessee Department of Agriculture
improving adult and youth educational strategies for Extension programming
utilization of pulse electromagnetic wave field therapy in performance horses, in partnership with Magnawave
What lead you to your research?
Like many of our undergraduate students I thought I wanted to become a veterinarian. After a childhood filled with believing I would do equine surgery, I met Dr. Ken McKeever at a high school honors breakfast. Dr. McKeever led an equine exercise physiology lab at Rutgers University, which helped guide my decision to pursue my BS there. While at Rutgers, I also worked with Dr. Carey Williams, and together these mentors sealed my love of exercise physiology and nutrition. There's nothing quite like watching a horse run on a high speed treadmill. Add taking blood and muscle samples, monitoring heart rate and oxygen consumption, and I was sold! I decided to pursue my MS and PhD at West Virginia University at under the direction of Dr. Holly Spooner and Dr. Kim Barnes. Dr. Spooner was the state Equine Extension Specialist at the time, and I worked closely with her in developing many applied research projects and educational programs, and Dr. Barnes specialized in lipid metabolism. My experiences cultivated an understanding of how basic science and high quality research are integrated within all aspects of the equine industry. I loved (and am still enamored) with improving the horse's overall health through knowledge of nutrition, exercise, and welfare. When I joined the University of Tennessee Animal Science faculty in 2015, I was tasked with developing an identifiable, statewide equine Extension program. To me, this encompasses utilizing my Extension program to inform my research initiatives and developing the future of the equine industry.
Where do you see your field in 10 years?
Personally I see a big push for development of clinical nutrition strategies and recommendations for managing specific conditions. Equine nutrition is behind small animal nutrition in its approach to targeted approaches for management, and I believe we are making strides evaluate how small nutritional alterations could improve equine health. Additionally, I expect we will continue to develop precision feeding and management strategies for equine operations that better allow us to use technology to monitor overall equine health and production.

Who are your lab members?
Graduate Students
Sawyer Main
Delaney Rostad
Ashley Self
Olivia Watson
Undergraduate Students
Madeline Ashburn
Natalie De Gruy
Madeline Parr
Contact
Jennie Ivey
Associate Professor, Animal Science
Learn more about Jennie's program by visiting her website, UTHorse