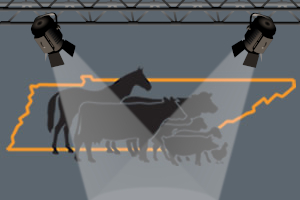 Get to know our Animal Science faculty, staff and graduate students in our Spotlight feature.
This week, meet Katie Mason, Assistant Professor specializing in Beef Cattle Nutrition Management
What is the most exciting part of your job?
Seeing cattle producers be successful in implementing best nutrition and grazing management practices.
What is something you find challenging about your work?
That there aren't many clear-cut answers; in the world of nutrition and forages as it relates to beef cattle, a lot of answers are "it depends."
When you were a kid, what did you want to be when you grew up?
Veterinarian or teacher.
Do you have any hidden talents or hobbies?
No hidden talents, but I enjoy reading, baking, and cross-stitching.
What's your favorite thing to do on the weekends?
Taking day trips to state parks or historical sites around Tennessee.
What's a skill you'd like to improve on?
Public speaking.
Are you an introvert or an extrovert?
Very introverted! Ironic that I pursued a career that requires me to interact with a lot of people on a regular basis.
What piece of advice would you give your 18 year old self?
You will learn new things every day and you will probably learn more in your first 6 months of your job than you do in graduate school… It's okay to say, "I don't know!"