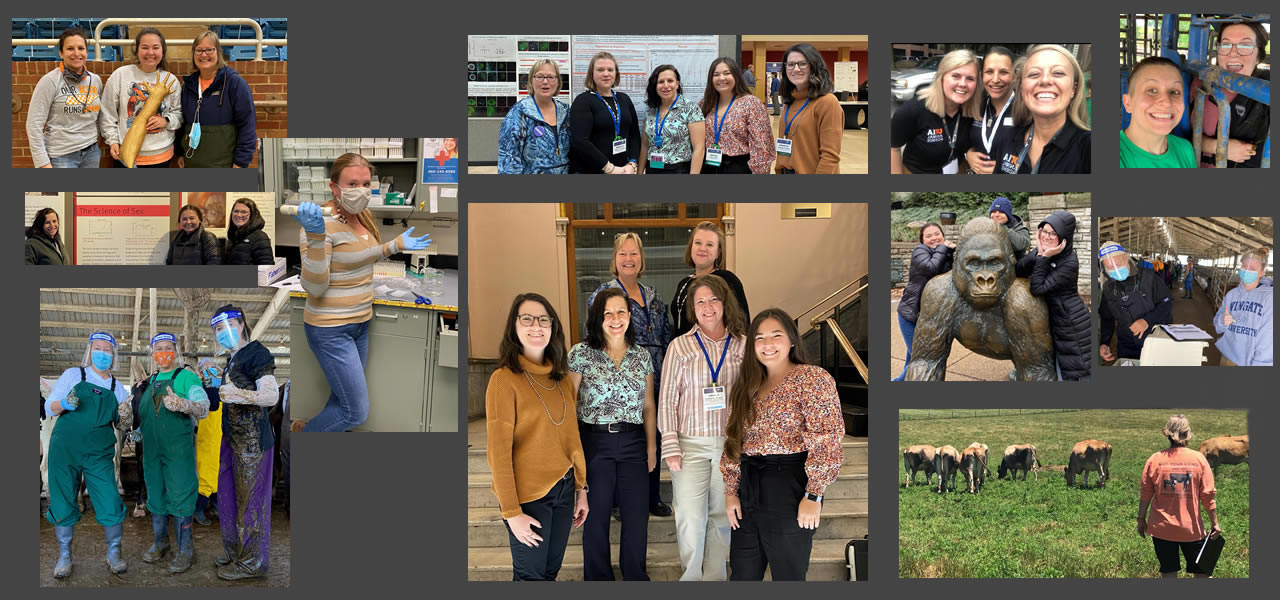 Animal Science has four key areas of research, Animal Health and Well-Being, Genetics and Genomics, Nutrition Physiology and Reproductive Physiology. Today we are highlighting a lab in the Reproductive Physiology area. Lannett Edwards, Professor, with a focus in Reproductive Physiology/Embryology, will share her lab with us.
Questions
What kind of work does your research group conduct?
Reproductive failure weighs heavily on the minds of producers. Estimated percentage of females failing to become pregnant after a single insemination ranges from 35 to 40% in beef and may be as high as 50 to 70+% in dairy cattle. Failures of this magnitude are not sustainable. Estimated cost to the US cattle industry reported in 2002 was ~$1 billion annually (beef and dairy); in 2018, associated costs approached $4.7 billion annually. While estrus constitutes a "short" time with nondisputed importance for reproduction, little progress has been made towards appreciating a functional role of High Estrus Associated Temperatures (HEAT) to maximize pregnancy outcomes. Until this information is known, the significant impact of reproductive failure occurring during this time period cannot be fixed. Although HEAT is largely a by-product of increased walking activity of sexually active females my laboratory has generated new knowledge over the past several years that provide compelling support for HEAT around the time of when the cow is to be bred to directly promote critical changes in ovulatory follicle components, especially the cumulus-oocyte complex. Depending on the extent to which HEAT is functionally important to maximize pregnancy outcomes in cattle, inexpensive approaches to improving fertility may be possible. Obtaining answers to this interesting question, which is the focus of current and future research studies, could lead to significant gains in the management of reproduction to improve pregnancy rates when using artificial insemination.

What led you to your research?
Passion for agriculture and animal-dairy science stems from grandparents who were dairy producers.
Passion for reproductive physiology/embryology originated in one of my junior level courses titled "Reproduction in Farm Animals" taught by Dr. Gaines Hunt and also my undergraduate advisor.
Passion for conducting foundational and applied research aimed at providing industry-based solutions stems from the collective experiences gained under the mentorship of graduate mentors John Fuquay and Nancy Cox at Mississippi State and Peter Hansen, University of Florida, and Caird Rexroad, post doctoral mentor at USDA-ARS.
Continued support of invaluable research collaborators/colleagues, especially Neal Schrick
Invaluable institutional support provided by UT Institute of Agriculture and the Department of Animal Science.  
Where do you see your field in 10 years?
Benefiting from the small but important incremental improvements in reproductive efficiency in cattle resulting from the new knowledge that is to be gained between now and then.
Who are your lab members?
Current Members
Most recent members completed
Louisa Rispoli, Research Assistant Professor
Hunter Liles, MS
Julia Rowinski, MS
Contact
J. Lannett Edwards
Professor, Animal Science