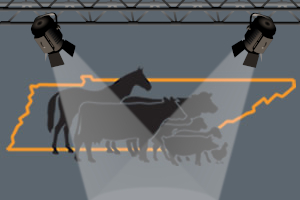 Get to know our Animal Science faculty, staff and graduate students in our Spotlight feature.
This week, meet Mary Ali Oliver, Graduate Teaching Assistant
What is the most exciting part of your job?
Research and learning new things. I absolutely love learning new techniques in the lab.
Who inspires you?
My family, especially my dad and grandfather.
What is something you find challenging about your work?
Learning not to stretch yourself too thin.
When you were a kid, what did you want to be when you grew up?
Veterinarian or cowgirl
Where do you see yourself in 10 years?
I see myself in a faculty position at a university. My ultimate goal is to teach reproduction, research, and mentor graduate students.
Do you have any hidden talents or hobbies?
I love to cook and go to spin classes! I also love to ride horses when I am visiting home.
What's your favorite thing to do on the weekends?
Hang out with my friends and enjoy the outdoors
Which historical figure would you most like to meet?
Leonardo da Vinci
Who do you look up to within Herbert College of Agriculture?
Dr. Mathew, Dr. Edwards, and Dr. Moorey
What's a skill you'd like to improve on?
I would love to get better at running outdoors.
Are you an introvert or an extrovert?
Definitely an extrovert
What's your least favorite chore around the house?
Laundry or dusting
How would your friends describe you?
Outgoing, loud, friendly, addicted to coffee
What piece of advice would you give your 18 year old self?
Keep an open mind and get involved! Also, don't take yourself too seriously.