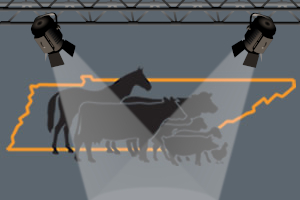 Get to know our Animal Science faculty, staff and graduate students in our Spotlight feature.
Meet Sonia Moisa, Research Assistant Professor, specializing in Beef nutrigenomics
What is the most exciting part of your job?
When I discover something that will help producers to enhance productivity and when my hypotheses are true.
Who inspires you?
My father drove me to who I am professionally speaking.
What is something you find challenging about your work?
Time constraints
When you were a kid, what did you want to be when you grew up?
Astronaut, interior designer, and finally, a vet.
Where do you see yourself in 10 years?
Working doing research about beef cattle.
Do you have any hidden talents or hobbies?
Talents: good swimmer and hobbies: gardening.
What's your favorite thing to do on the weekends?
Watch a movie on the couch with my husband Stuart and my dog Rusty
Which historical figure would you most like to meet?
Pope John Paul II
Are you an introvert or an extrovert?
I used to be an introvert.
What's your least favorite chore around the house?
Mop to floor
What piece of advice would you give your 18 year old self?
Put more effort into your English classes, you will need it later.