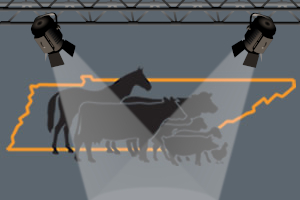 Get to know our Animal Science faculty, staff and graduate students in our Spotlight feature.
This week, meet Brynn Voy, Professor in Animal Science
What is the most exciting part of your job?
The hands-on practice of science! I will forever be amazed at how living things work and interact. Even after many years, I can still look at cells in culture for hours, and my jaw still drops when I read a new paper or see data that prompt me to make a new connection.
Who inspires you?
At the top of the list would be my Dad. He was the most pure-hearted person that I have ever met. He was a teacher and a coach, and I couldn't begin to count the number of people over the years who have told me about the influence he had on their lives. He taught us not to be afraid of hard work, but also not to take life too seriously.
What is something you find challenging about your work?
Juggling!
When you were a kid, what did you want to be when you grew up?
A horse trainer. Not that I really knew what that entailed!
Where do you see yourself in 10 years?
Being tempted to retire from UT and hit the road for months at a time with my husband in our camper! (maybe even to visit grandkids?)
Do you have any hidden talents or hobbies?
I enjoy photography but don't have enough time for it for right now. I love to cook, especially Mexican, and thanks to quarantine I now have decent baking skills.
What's your favorite thing to do on the weekends?
Be outdoors!! Ideally with my family, hiking, biking, paddling, camping, exploring.
Which historical figure would you most like to meet?
Charles Darwin
Who do you look up to within Herbert College of Agriculture?
Dr. Schrick, for maintaining his optimistic, "get 'er done" attitude despite challenging circumstances.
Our grad students who come here from other countries, many without English as a first language, to earn their degrees and seek new opportunities for themselves.
What's a skill you'd like to improve on?
Time management.
Are you an introvert or an extrovert?
An introvert who would love to occasionally cross over to the other side.
What's your least favorite chore around the house?
Cleaning the refrigerator.
How would your friends describe you?
Two friends recently described me as "vibrant" and "sunshiny", so I will go with those. And probably as someone who loves a good laugh.
What piece of advice would you give your 18 year old self?
Don't worry about not having as much of a plan as others seem to have. Your path will find you. And don't underestimate yourself.