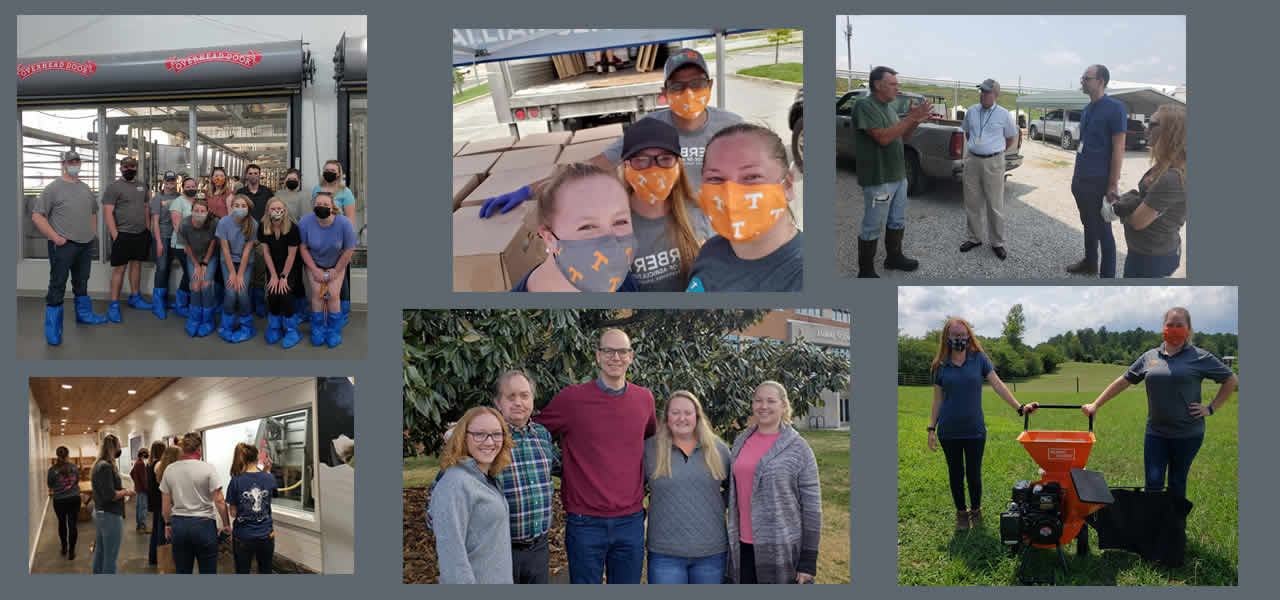 Animal Science has four key areas of research, Animal Health and Well-Being, Genetics and Genomics, Nutrition Physiology and Reproductive Physiology. Today we are highlighting a lab in the Animal Health and Well Being area. Liz Eckelkamp, Assistant Professor with a focus in dairy systems management facilities, precision technology, and dairy cow health, will share her group with us.
Questions
What kind of work does your research group conduct?
Our research group focuses on a mixture of survey and applied research across value-added dairy production, precision technology utilization, health management, economic efficiency, and housing decisions. Currently, my lab group leads several efforts focused on understanding and promoting Value-Added Dairy Products across Tennessee, Kentucky (partnership with University of Kentucky, Kentucky Dairy Development Council, and Kentucky Center for Agriculture and Rural Development), and North Carolina (NC State University). Recently, these efforts have extended to the entire Southeast Region. Additionally, we are heavily involved in collaborations with the Department of Agricultural and Resource Economics focused on describing the economic state of the dairy industry, investment and management decisions with precision technology, consumer preferences for value-added products, and future efforts will focus on using eye-tracking technology to determine impacts of marketing strategies and agritourism efforts. We also work closely with the Center for Profitable Agriculture, Department of Agricultural Leadership, and Education, Department of Forestry Wildlife and Fisheries, and the Department of Retail, Hospitality, and Tourism.
What led you to your research?
A winding path! I started undergrad with the intention of going to vet school, but as I became more involved with dairy throughout college I wanted to work more with dairy animals and research. During my Masters and PhD at UKY, I began working with dairy farmers closely through housing decisions and use of precision technologies. These experiences led me to value the amazing people behind the amazing creatures I loved during undergrad. That path led me to extension and deriving applied research outcomes to help our dairy industry.
Where do you see your field in 10 years?
In 10 years, I see more advanced decision making and incorporation of technologies, both in dairy farming and dairy processing. Our lab will continue to play a roll in that development as we bridge the knowledge gap between consumer desires, dairy production and processing, animal care, and economic decision making.
Who are your lab members
Caitlin Zaring – master's student focused on value-added dairy production and consumer perceptions around value-added products
Abby McCalmon – master's student focused on management decisions with automated milking systems and economics of investing in automated milking systems
Shep Stearns – Value-Added Dairy Extension Specialist working directly with farmstead creameries
Dana Weber – Financial Specialist working with value-added projects
Contact
Liz Eckelkamp
Associate Professor, Animal Science
Web Presence