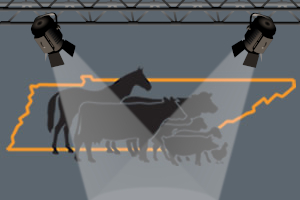 Get to know our Animal Science faculty, staff and graduate students in our Spotlight feature.
This week meet Liz Eckelkamp, Assistant Professor, Extension Specialist for Dairy
What is the most exciting part of your job?
Getting to answer questions for farmers and students. There's nothing more exciting than seeing a farm improve their management or seeing an idea you've suggested have positive results for a farmer. Same thing with students, seeing the next generation make connections from lecture topics to the real world is one of the most rewarding parts of my job.
Who inspires you?
I would have to say the people I work with. I'm lucky to get to work across multiple disciplines with experts in everything from economics to urban forestry. Working with such diverse people and backgrounds inspires me to do more and find new ways to answer challenges.
What is something you find challenging about your work?
Shutting off work mode at the end of the day. It's really easy to keep working on emails, or reading just one more page of a paper I'm reviewing.
When you were a kid, what did you want to be when you grew up?
A veterinarian! I grew up in the city, and I didn't know there were so many other careers involving animals.
Where do you see yourself in 10 years?
At UT, working with farmers and Dairy-focused students.
Do you have any hidden talents or hobbies?
I am a bit of a grandma, I enjoy needlepoint and singing show tunes as loud as possible.
What's your favorite thing to do on the weekends?
Sleep in! And when it's nice outside go hiking, biking, or kayaking with my husband and our two dogs.
Which historical figure would you most like to meet?
Amelia Earhart
Who do you look up to within Herbert College of Agriculture?
There are so many people I look up to here, but I would have to say my Botswana Study Crew.
What's a skill you'd like to improve on?
My ability to sit still and get papers written
Are you an introvert or an extrovert?
I think most people would say extrovert, but I feel like an introvert
What's your least favorite chore around the house?
All of them, except folding the laundry.
How would your friends describe you?
Sassy and sarcastic
What piece of advice would you give your 18 year old self?
To stay open to new possibilities, because you are going to have the opportunity to experience so much.